Source: Sydney Morning Herald | Title: Coronavirus updates LIVE: NSW records zero new local COVID-19 cases as Victoria eases mask restrictions; Brisbane quarantine hotel evacuated over cluster fears
We have made our live blog of the coronavirus pandemic free for all readers. Please consider supporting our journalism with a subscription.
Pinned post from
Watch live: WA Premier
Western Australian Premier Mark McGowan is addressing the media at 9.15pm WA time, 12.15pm AEDT.
Latest posts
'We do not have capacity' to make the Novavax vaccine, says CSL
By

Emma Koehn
As the government races to secure more vaccine supply deals, biotechnology giant CSL has dashed speculation it could make the Novavax coronavirus vaccine onshore at the same time as AstraZeneca's product.
The Morrison government is in talks with dozens of companies about more vaccine supply after criticism earlier this week that the nation was relying too heavily on AstraZeneca's product, The Age and The Sydney Morning Herald revealed on Thursday.
The focus on new supply deals prompted reports including in The Daily Telegraph that Melbourne-based CSL might be able to locally manufacture the protein vaccine designed by US biotechnology company Novavax.
However, a CSL spokeswoman said that despite reviewing its production capacity in detail, the company's focus had to remain on producing 51 million doses of the AstraZeneca vaccine and it had no space for other projects.
"At the request of government we have carefully considered our ability to simultaneously manufacture the Novavax vaccine, but unfortunately we do not have the capacity or capability to manufacture two COVID-19 vaccines involving live viruses," the spokeswoman said.
"CSL remains fully focussed on production of the AstraZeneca vaccine and anticipates that the first locally produced doses of the vaccine will be ready in the second quarter of 2021, subject to regulatory approval."
A purchasing agreement between the Australian government and Novavax was secured last Friday, providing 51 million doses of its COVID-19 vaccine at an undisclosed price should the product prove successful in trials.
Read more: 'We do not have capacity' to make the Novavax vaccine, says CSL
Local Australia Day events can proceed in Sydney: NSW Health Minister
By

Natassia Chrysanthos
Local council Australia Day ceremonies can go ahead in Sydney on January 26 within the limits of current public health orders, NSW Health Minister Brad Hazzard confirmed.
"In the greater metropolitan area… If councils wish to have Australia Day ceremonies, and hopefully they will, they can certainly have those with up to 500 people, without any major concerns," he said.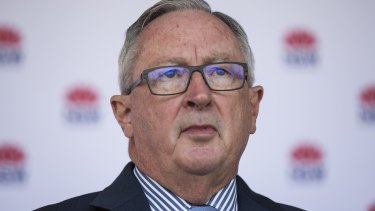 "There have been a number of councils who have been in contact already with NSW Health, asking for what arrangements they can enter into for Australia Day. But I emphasise you can have Australia Day celebrations and just to put those limits."
He said NSW Health would update its website with more information within 72 hours, but said councils would not have to make individual applications to public health staff in order to host events.
Major Australia Day festivities around the CBD have been significantly muted this year, with a number of longstanding events cancelled and spectators limited amid ongoing restrictions.
Australia Day Council of NSW chairman Andrew Parker earlier this week said the "traditional and iconic" Sydney Harbour daytime program – including events such as the Ferrython, the Tug and Yacht Ballet, the Tall Ships Race, and the Harbour Parade – "will not be taking place".
Eighteen Victorians in Queensland hotel quarantine during breach, Andrews says
By

David Estcourt
Premier Daniel Andrews has said that 18 Victorians were in Queensland hotel quarantine during the period when a strain of the coronavirus escaped into the Brisbane community.
A total of 20 people who stayed in the program travelled from Queensland to Melbourne, with two travelling on to South Australia.
Mr Andrews said contract tracers had been urgently getting in touch with the 18 people and encouraging them to get tested and isolate.
"We're contacting them. We're testing them. They'll – some will need to isolate, some will simply need to get a negative test," Mr Andrews said.
"There's a specific window where we believe there's some chance that because of the infections already recorded in hotel quarantine, between staff and residents, and it is that UK strain, without any other link, circumstances are very much based on each person's travel movements and when they were in hotel quarantine.
"So, I can't tell – it's not a blanket thing for all 18. It will depend on their individual circumstances."
The Premier said Queensland had experienced "significant" issues in their hotel quarantine arrangements, including complications arising from the emergence of a UK strain in Australia.
Mr Andrews said the government was already in contact with the people at risk.
"We are well and truly in contact with them and we'll provide them with tailored and specific advice about what they need to do," Mr Andrews said.
"We thank them in advance for the co-operation they will no doubt provide to us, and their close contacts, people they have returned home to, in these last few days."
NSW Health still looking for source of Mount Druitt couple's infection
By

Natassia Chrysanthos
While NSW has recorded its first day without a confirmed case of community transmission since January 6, health authorities are still looking for the source of recent infections.
NSW Health still does not know where the Mount Druitt couple, whose infections were reported earlier in the week, acquired COVID-19.
Their infections have been genomically linked to the Berala cluster.
"We're thoroughly investigating a range of commonalities with other cases and other contacts to look for links," Dr Jeremy McAnulty said.
"The investigation is continuing, but, so far, we haven't found any solid link. That's not to say we won't."
In the meantime there's been lots of contacts identified and tested and placed in isolation and we haven't found further transmission at this point, which is good news."
NSW government will not make directive on return to the workplace: Health Minister
By

Natassia Chrysanthos
NSW Health Minister Brad Hazzard has said the current public health directions for workplaces, which allow employers to choose whether staff should be at work in person, are appropriate for the current situation.
The government has softened its position since late last year when it urged employers to return staff to workplaces, saying it would "lead by example" by returning the public service.
"We see no reason to change the current arrangements which largely leave it to the employers and their staff to determine whether or not people should be at work," Mr Hazzard said on Thursday.
"But I think it's fair to say most employers, particularly the larger ones, are being very reasonable and very sensible and talking to their staff about just whether it is necessary for you to be operating within an office structure, or whether you can work from home."
Mr Hazzard said the government did not currently see any reason it should tell businesses or employers how they should deal with the issue.
"But certainly I think clearly it's a COVID pandemic, a balance is appropriate, and so far business appears to be doing precisely that and making sure that their workers, if they're not crucial to be in the office, are not required to be there every day of every week," he said.
"Before we were focused on the variants, we were concentrating on making sure the public sector did lead the way in terms of staff coming back. There's a balance occurring there as well. In my office, my chief of staff runs the show. And I see most days she has half of the staff in the office and they're well spaced and that's fairly typical."
The public health order no longer tells businesses they must let their staff work from home if possible, as it did earlier in the pandemic.
NSW Health Minister on 'high alert' about new strains; 14 returned travellers carry virus variants
By

Natassia Chrysanthos
Fourteen people with COVID-19 variants remain in NSW's special health accommodation.
NSW Health Minister Brad Hazzard said the state was "always on high alert about what might happen" and the risk of the variants leaking into the community. "It's a human system. I suspect in the end [Queensland will] find there was some human breach there as well. But that's a matter for them," he said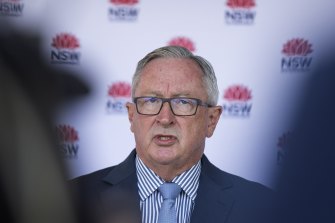 He said he had confidence in the state's public health system. "And in the quarantine system, and our public health team are second to none. So the people who are managing these health hotels and the police hotels, are doing an excellent job."
NSW Health's Dr Jeremy McAnulty said there were two main mutant variants of COVID-19, but more were emerging around the world. "They're named after the country where they were first identified, but that doesn't mean they're not in many other countries as well," he said.
"Of those 18 [cases of variants we've had] in total, we had five from the South Africa strain, and the remainder the UK strain."
Dr McAnulty said the community should expect those new variants to become the norm.
"We're getting more and more people with positive cases coming from overseas. As the virus does its worst across the rest of the world, Australians coming back are more likely to have the virus or a variant thereof," he said.
"Of course we have to manage that issue and we are managing that issue."
Health authorities working to reduce size of red zone, Andrews says
By

David Estcourt
Victorian Premier Daniel Andrews said he understands the anxiety of people that remain stuck outside Victoria and that the public health team is working to try and limit the geographical area to which red zone rules apply.
The public health team, which Mr Andrews has consistently said is guided solely by medical advice, deemed large areas of NSW "red zones" under the state government traffic light permit system, banning them from reentering Victoria while the NSW outbreak persists.
Mr Andrews said that numerous factors including viral shedding in wastewater, positive tests among close contacts and case numbers would play a role in deciding whether to change a particular red zone to "amber" and allowing people to travel back to Victoria.
"I understand it's not easy," Mr Andrews said, "the moment the public health teams are confident that we can reduce what is a very big red zone to down to a smaller concentrated group of local government areas, and therefore release into an orange [area], many many Victorians, we will do that."
"I just want to assure all Victorians, and particularly, those that want to come home but can't because it's not safe right now, you will be in this circumstance for not a moment longer than the public health experts tell me you have to be," Mr Andrews said.
NSW businesses reminded to use Service NSW app as state records 32 million check-ins
By

Natassia Chrysanthos
There have been 32 million COVID-safe check-ins through the Service NSW custom feature, Customer Service Minister Victor Dominello has said.
Three million people have downloaded the app and more than 100,000 businesses have registered customers with the QR code.
But 29 per cent of inspected businesses were still not using the mandatory Service NSW feature, Mr Dominello said.
He indicated he was pleased with the uptake but emphasised "there's room for improvement".
"For the ones that are not, you have to lift your game. We're still in this pandemic… You need to protect your staff, you need to protect your customers, and you've a broader obligation to the NSW community," he said.
He said inspectors would continue to visit the state's 38,000 hospitality venues and 20,000 hairdressing or beauty salon businesses.
"[Inspectors are] literally also on the front-line, doing the tough job, and it really is tough work, as we have seen recently, when tempers fray," he said.
"We don't want to shut businesses down, we want to do the opposite, we want to encourage businesses to stay open. But they must stay open in a COVID-safe way."
Mask wearing rules to ease in Victoria at midnight on Sunday
By

David Estcourt
Premier Daniel Andrews announced that mask-wearing will to return to Christmas settings on at midnight on Sunday due to the success of Victorian contract tracers and eight consecutive days of no community transmission.
But Mr Andrews said record-keeping requirements for businesses will not be changed meaning employers will have to keep track of all workers and visitors who are at their premises for more than 15 minutes.
"This will be a massive boost not only for the office workplaces in the heart of Melbourne, but the cafes, restaurants, bars and shops that rely on their business – it will be fantastic to see the city coming alive again," Mr Andrews said.
Mr Andrews said people should also still wear masks in situations where they cannot maintain social distancing.
Mask-wearing guidelines were reimposed in Victoria just before new year following a small outbreak of the virus suspected to be brought down from people who travelled to, or who were travelling from NSW.
"I know nobody enjoys wearing a mask," Mr Andrews said.
"We have to safeguard this precious thing that Victorians have built and that all Victorians should be proud of."
Contract tracers have been busily contacting 18 people who may have been connected to the recent Brisbane outbreak.
Mr Andrews said that if the situation worsens again, masks and other restrictions could be reintroduced.
"Whether something is popular is not my concern," Mr Andrews said.